Hola! Pura Vida! My name is Michelle.
I was born in the city of Heredia near San Jose. I moved to the beautiful town of Santa Teresa more than 15 years ago and I've never looked back.
Santa Teresa is a magical place, and surfing is its lifeblood. It is my passion and heart to teach this transformative, fun, and empowering sport. Be a surf instructor for every woman, man, or child who wants to learn—regardless of age or surfing ability.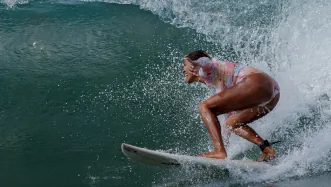 I'm one of the founders of the local Asociacion de Surf which organizes surf contests and teaches kids how to surf. I am a certified ISA Surf Instructor and lifeguard and have been featured on ESPN. I am tri-lingual speaking English, Spanish and Italian.
'Pura Vida' is an expression you will hear here all the time. Translated literally it means 'pure life', but it means much more than just that. It's a way of life, it's living life to the full and being happy. It's how I want you to feel after surfing with me.
I would love for you to join me on a life-changing, transformative surf experience in this magical place where time slows, shoulders drop, and spirits soar. The ocean is the biggest place on this planet and once you connect with it there is no turning back.
Ciao! My name is Davide!
I believe that every day should be filled with good food, love, and hopefully surfing. I came to Santa Teresa from Italy more than 10 years ago, and I consider myself truly blessed to meet my wife, Michelle, and to be able to settle here. People use the word 'magic' a lot to describe Santa Teresa, and it's true; is one of those places in the world to connect with nature and our true selves.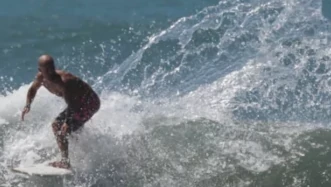 My wife and I have set up The Girl And The Sea Surf School because we want more people to experience the thrill and tranquillity of surfing. If you're looking for a cool, surfer dude as your surf instructor then I'm afraid you're in the wrong place. However, if you're searching for intelligent, articulate teachers – then I think we have a lot to offer.
We want to change the way surfing is taught, so that the sport is more accessible and more fun. We're not surf dudes, we're surf lovers, and it's our pleasure to share this passion with you. Surfing is a difficult thing to master, but we break it down into easy-to-understand steps and drills.
The early stages of learning can actually be the most exhilarating. Of course, you will wipe out a lot, but this is just part of the process.
Why be a surf instructor?
Through surfing, we also learn a lot about life. It's important to be patient, without ego, and a sense of humor certainly helps. The sport is very beneficial to children and teenagers who may be struggling with their self-esteem. Once you've stood upon an unbroken wave for a consecutive 3 seconds you will feel like you can do anything.
That's been one of the main lessons surfing has taught me – that I can achieve anything I put my mind to. Over time, surfing taught us that life is a beautiful adventure when you go out of your comfort zone, and start living the life of your dreams.
---
Ready to surf with your favorite surf instructors?
If you want to enjoy the kind waves of Santa Teresa beach while learning how to surf, write to us directly on Whatsapp or through our contact form.